We've had a slow, but steady influx of award ceremonies this month so it's probably about time i put in my two cents on the fashions, and faux pas.
Golden Globes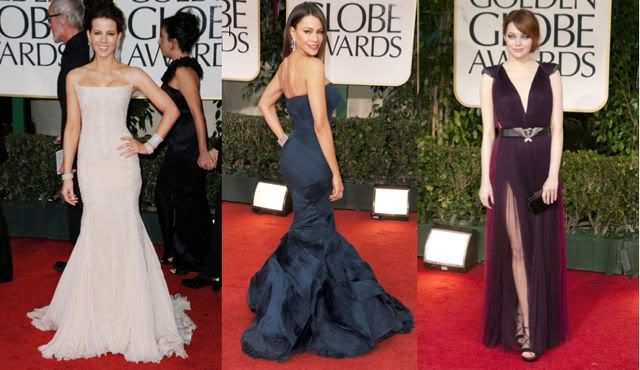 Kate Beckinsale | Sofia Vergara | Emma Stone
With the Golden Globes boasting huge stars, and huge budgets, you expect the ceremony to be full of beautiful gowns, but sometimes money can blind you! Although i love the shape, and style, of Kate's beautiful number but i'm not such a fan of the colour or the unflattering 'balcony boobs' trend that seems to be sweeping the celebs. Again, although there are aspects of Sofia's dress that i like, such as the beautiful deep teal/grey colour and the fishtail skirt, the rest of the shape just doesn't suit her body shape. On someone with a slightly smaller bum, it'd probably fit their shape a little better. Against her delicate, porcelain skin this deep aubergine purple really pops and mixed with it's delicate tulle layering, Emma Stone looks completely flawless. Paired with her big, bold, statement belt she gives her otherwise girly look a rocky edge, matching her smokey eyes.
National Television Awards
Holly Willoughby | Jacqueline Jossa | Sam Faiers

I'd have to say, i was probably most impressed by the get up of the celebs that attended the NTAs. There was a beautiful selection of long, flowing ball gowns and The Royal Albert Hall was full to the brim of glitz and glamour. These are my three favourite picks, as there wasn't much to pick from that i didn't like (except for Fearne Cotton's granny chic!) The images don't quite seem to do justice to the first two images, as on the night they looked stunning but they both have a lot of movement to them so they'd never look as good static. Holly looked the epitome of a yummy mummy during the ceremony, and when she was lucky enough to win two awards, for programmes she's involved with, her beautiful flowing dress made her look like a Hollywood starlet. I adore Jacqueline's dress, and her very on the spot speech! She looked worlds apart from her character, Lauren Branning, and utterly gorgeous in this young and trendy gown. The detailed black top looks perfect against the berry hues of the skirt and along with that up do, she fits the award ceremony bill. The rest of the TOWIE gang didn't have a chance with Sam Faiers looking this lovely! Against her rich, and enhanced, golden skin this sparkly nude number suits her figure and her overall 'look'.
Screen Actors Guild Awards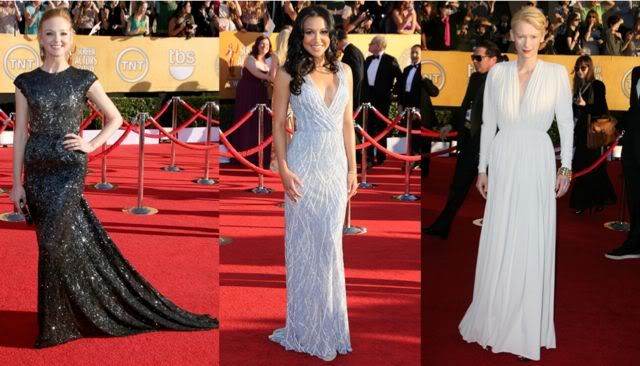 Jayma Mays | Naya Rivera | Tilda Swinton
The dresses debuting at the SAGs weren't really my thing, they tended to be quite simple and neutral, whereas i like a little pizazz when it comes to the red carpet. These were the three that i picked because they stood out the most, but not completely because i loved them. Jayma looks lovely in this glitzy, sequinned number however the shape doesn't entirely suit her frame as it looks a little tight across her middle. Apart from that, i think she looks beautiful and with the hair swept off her face she exudes confidence and beauty. Nava's was probably my favourite dress, but it's still nothing to write home about. It's pretty plain, but quite a gorgeous icey blue colour, which is quite different. Without the line detailing it really would be nothing special. Everyone seemed to rave about Tilda Swinton's outfit, but i really don't think it's anything to rave about, frankly i think it's a little dull , and plain. Despite it's grecian style, there isn't too much going for it and with her exceptionally pale skin, i wouldn't have gone for something so.. white.
K

|

xo